Starting My Internship With Smile Farms
January 11, 2017
1-800-Flowers.com's Emeralds Visit Smile Farms at IGHL
April 28, 2017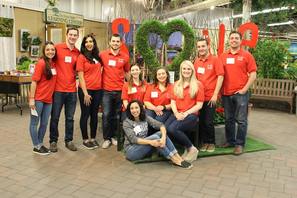 Last week, Smile Farms announced its latest campus expansion with The Viscardi Center at Hicks Nurseries' 27th Annual Spring Flower and Garden Show, "Living Dreams".  Over 150 people were in attendance including the Smile Farms and The Viscardi Center families as well as loyal friends and customers of Hicks Nurseries. The event was paired with a walk through of their beautiful garden creations. Many of the displays were whimsical and bright, mirroring images you would see in your dreams. Every display you walked past, you felt like you were in a different world, from the underwater scene with actual water waves and mermaids, to the forest scene with life size peacocks.  
---
Attendees savored hors d'oeuvres prepared by The Viscardi Center's own culinary students, which gave them a chance to show off their skills to this group of people. This event allowed Smile Farms supporters the opportunity to commingle with The Viscardi Center Family while enjoying the wonderful works of art. Smile Farms expects to double its footprint and open 3-4 additional campuses in 2017, with The Viscardi Center being the first one.
​
The Viscardi Center provides a lifespan of services that educate, employ and empower people with disabilities. Its programs and services include Pre-K through High School education, school-to-work transition services, vocational training, career counseling and placement and workforce diversification assistance to children, adolescents, and adults with disabilities and businesses.
This "Living Dreams" event hosted by Hicks Nurseries was a perfect way to kick off this new collaboration because both, Smile Farms and The Viscardi Center, work to help the developmentally disabled community live out their own dreams.

Gabrielle Luisi
Smile Farms Inc.  Intern
---