A Season of Sharing. A Season of Giving Back.
December 5, 2018
Smile Farms Named as Semi-Finalist in 7th Annual Imagine Awards
December 26, 2018
Alexandria Real Estate Chips for Charity Benefits Smile Farms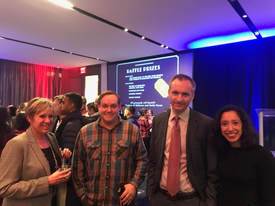 Each year, Alexandria Real Estate Equities (ARE) selects a worthy non-profit to benefit from its Annual Chips for Charity Holiday Party. Smile Farms was honored to be chosen as their 2018 recipient, along with Children of Bellevue. Earlier this year, ARE partnered with Smile Farms and the Center for Family Support to employee 2 individuals with developmental disabilities at the Riverpark Farm in New York, NY.  We are so grateful to ARE for their ongoing support and generosity this holiday season.