Night Under The Lights!
August 1, 2019
More Than Just An Intership
September 5, 2019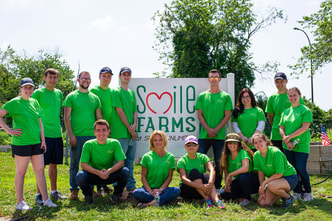 EisnerAmper Cares is an initiative of the accounting firm EisnerAmper LLP that encourages and supports the volunteer efforts of the firm's employees. EisnerAmper Cares is involved with numerous volunteer events at various charitable organizations, but none are as special to me as our work with Smile Farms Inc., an organization that we have watched "grow" since 2015. Smile Farms' mission is to provide developmentally disabled adults with meaningful work opportunities at farms, urban gardens, greenhouses and farm stands where they can grow and sell flowers, plants and produce in their local communities.
On July 9, I was a part of a team of 15 volunteers from EisnerAmper that went out to the Smile Farms location at Skills Unlimited in Oakdale, NY to assist with garden work. Smile Farms broke ground at Skills Unlimited in 2017 and has since grown exponentially, boasting 24 raised beds, 10 employees, aeroponic towers, a hoop house and a green house. Our volunteer day was well-timed, as it was scheduled only days before a ribbon-cutting ceremony at the location, celebrating Smile Farms' generous donation of a beautiful greenhouse to the Skills Unlimited location. The greenhouse will allow the program to run year-round and means so much to its employees! We spent the day in the gardens, weeding, digging and cleaning up so they were ready for the celebration.
Last July, when we volunteered at the Smile Farms at IGHL in Moriches, NY, our volunteers had the opportunity to work alongside some of the individuals that are employed by that farm, and hear firsthand how important their work was to them. One after another wanted to tell me how they spend their wages and how they look forward to coming to work. This year, while we did our volunteer work on a day when the Smile Farms employees had some time off, we had the opportunity to work with Ryan Ferguson, the garden supervisor at Skills Unlimited. It was apparent how devoted he is to his job and to the Smile Farms employees. He told us how much his students loved working in the gardens and how it was a literal breath of fresh air for them. As Ryan explained the mission of Skills Unlimited and how the Smiles Farms garden fit into that mission, I could not get over what an amazing partnership the two organizations have.
Smile Farms has a mission that means a lot to me personally. My father, after retiring from his business, devotes his time as a counselor for developmentally disabled adults. Some of his charges are frequent visitors at the house, coming over to join in our family dinners or just to say hi. My mother works with children who are developmentally disabled. Spending time with these individuals, it is apparent how much they're like everyone else: how accomplished they feel when they can work and do something productive. Smile Farms gives them those opportunities.
On Wednesday July 24, 2019 my husband and I, along with our children, attended the 3rd annual Smile Farms event at CitiField: A Night Under the Lights. It was a fun-filled, family-friendly evening at the ball park in support of Smile Farms' mission. The FREE Players Ensemble, a regionally-renowned singing group composed of adults with developmental disabilities, sang the National Anthem and Smile Farms' supporters were welcomed onto the warning track to support them and bring awareness to Smile Farms' cause. A great time was had by all. I hope you will join Smile Farms at their next event!
Cindy Feder
EisnerAmper LLP