All Smiles at 1-800-Flowers.com Employee's Volunteer Day
July 24, 2015
1800Flowers.com's Summer Interns Lend a Hand at Smile Farms!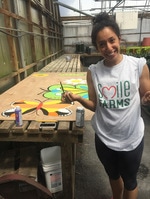 On Monday, June 22nd 2015, 1800flowers.com had their 2015 summer interns take a field trip to our Smile Farms in Moriches New York, to come help out with some tasks around the farm for the day. Mark Hubbard, who is a point person for Smile Farms at IGHL (Independent Group Home Living) met with the Interns at the beginning of the day along with Senior Director, Claire Stapleton, to thank the interns for donating their time to Smile Farms and to go over the tasks for the day ahead.
First the interns were asked to help create visual improvements to the farm by painting big images of flowers, plants, animals, and other farm and garden symbols on large pieces of wood and boards, so they could be cut out and hung up on the walls around the farm to create an even happier place. The boards are easily removable off the walls they will be mounted on, so if the need retouching, they can be no problem.
The second task the interns took part in was to help the Farm Manager move specific plants from one patch of the farm, to another area of the farm. The interns helped organize the plants in the front of the farm so the old space could be used for new plants, and the street visibility would increase for the newly moved and organized plants.
The interns did such a wonderful job helping out at Smile Farms. They worked hard all while having fun, and helping out a great deal at the farm. The hands-on experience allowed for the interns to see the hard work and dedication that goes into the farm and that is done by the farmers and staff. It was the perfect way to see how 1800flowers.com and Smile Farms deliver Smiles every day.
Savannah Febesh
Smile Farms Inc. Intern