FRANK MARZANO
Treasurer/Chief Compliance Officer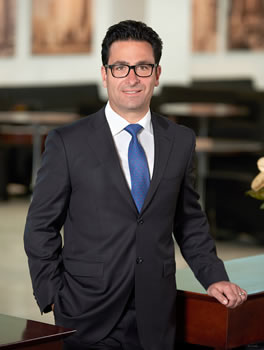 FRANK MARZANO founded GM Advisory Group (GMAG) and its affiliates with a vision of creating an integrated wealth management firm specializing in serving the unique needs of high-net-worth individuals and families and family-owned businesses. Over the years, GMAG has developed an offering that provides a spectrum of solutions and resources, including investment management, financial planning, family office, risk management, and bookkeeping/bill payment—all of which are designed to meet GMAG's clients' varied needs.
Today, as managing principal of GMAG, an independent advisory firm, Frank works with clients to design financial planning and wealth-management strategies around their goals. Frank and his team provide detailed, customized financial and life planning aligned with each client's unique objectives, life circumstance, and values. The foundation of GMAG's culture is based on four simple standards— Responsible Relationships, Collective Intelligence, Disciplined Investment Approach, and Service Innovation. Personal commitment to GMAG's client's best interest as advisory fiduciaries is at the core of these values, which drive Frank and his team to be truly invested in each client's overall well-being.
Frank holds several professional credentials. He is a CFP® practitioner and a certified public accountant (CPA), specializing in investment-management consulting. He received a Bachelor of Science degree in accounting from Pennsylvania State University and a master's degree in taxation from Long Island University.
He also belongs to numerous professional financial associations. Additionally, Frank is committed to giving back to his community by supporting many organizations that make a difference by changing lives and building communities. He maintains positions on the boards of directors for several nonprofit entities.
Under Frank's leadership, GMAG has been featured in publications such as Barron's, Forbes, Financial Times, Wealth Manager, Businessweek, Money Magazine, Investment News, and Financial Advisor Magazine.