Dining For A Difference at Bouley Botanical
November 2, 2016
The Association of Fundraising Professionals of Long Island – Philanthropy Day 2016
November 22, 2016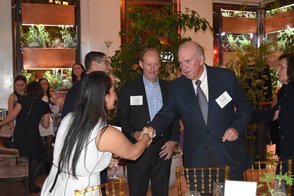 Many can agree that everything in life happens for a reason and any small impact can create a ripple effect and have a tremendous outcome. Growing up I have always considered myself extremely blessed. Over the years I have been given incredible opportunities and I have been extremely fortunate. Throughout life I realized that I cannot take anything for granted and I need to give back to my community. Parallel to realizing this, I learned about Smile Farms.
We all talk about giving back to the community and helping those in help and this is my opportunity to do just that. As I got involved and became an ambassador for the organization, I began to work with such an amazing team. The people behind the Smile Farms Organization are a perfect example of those who practice what they preach. They are all extremely passionate and have the mindset to create jobs for their neighbors and give everyone an equal opportunity.
The organization has inspired me to dedicate my time to giving others the same opportunities I have been given. America is home to hard working individuals trying to provide for themselves, so why should people be discriminated based on their ability? Smile Farm Workers are given the same opportunity that any other individual is given, and to us, our mission is to make sure the world knows they are capable of anything. I am grateful for the opportunity to volunteer for an organization that plans to change the world just with one smile at a time. 
Sophia Ouloupis
​Smile Farms Inc. Ambassador
---