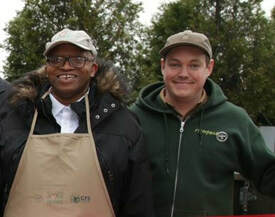 When I learned that Riverpark Farm was going to be working with Smile Farms, my concerns were what you would expect from someone who has never worked with adults with developmental disabilities before. How is this person going to fit in with the team? How much extra attention will they need? How productive will they be? I understood that creating an opportunity for Kevin would be a positive thing for him, but I hadn't realized the impact that his positivity would have on me. 
​
​Like most jobs, even urban farming can grow to be monotonous and tedious. With the demands of production goals and the uniformity of routine, it can be easy to overlook the excitement of germination, the color of the flowers, the sound of the birds, the smell of the rain, and the victory of the harvest. Kevin shines a light on all of those things.
---
Kevin's biggest contribution to Smile Farms at Riverpark Farm has been his attitude. He shows up every day with a smile that always proves to be contagious. The mood amongst the entire farm staff lightens when Kevin shows up. He is always happy to get started with whatever task I put in front of him. More than anything, Kevin wants to know that he has done a good job. He is always eager to show off the work that he has done.
Kevin's second biggest contribution is his sense of wonder. This also happens to be what distracts him the most. Kevin is often distracted by the very things that I wish I noticed more of throughout my day. He often calls me over to talk about the difference in color on the front and back of a butterflies wings, the amount of growth of a particular plant from the previous day, or how a particular herb smells different when it's wet. If he isn't calling me over to tell me these things, he is calling me over to answer his questions. He wants to know the gender of the insects, how long their lifespans are, and where they live. Why are these flowers yellow but those flowers are white? 
Kevin's unique characteristics have proven to be very valuable. I believe that people work harder when they are happy and engaged with wonder at the task at hand and Kevin helps my entire staff achieve that mindset. 
I look forward to having Kevin back at Smile Farms at Riverpark Farm in the spring and I am so grateful to be able to contribute in providing him with meaningful work.
Jonathan Sumner
Farm Manager, Smile Farms at Riverpark Farm
​
---