Smile Farms® Helps Create a Sense of Purpose for Adults with Disabilities
October 1, 2022
March is Developmental Disabilities Awareness Month
March 29, 2023
One for All Gifts in Southold, owned by mother-son duo, spotlights neurodiverse entrepreneurs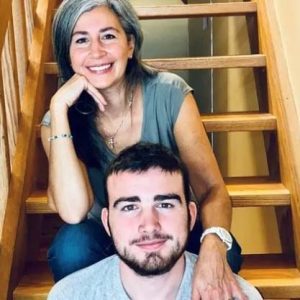 Finding the perfect present for someone always brings a rush of delight. At One for All Gifts in Southold, that buzz is accompanied by an eye-opening, "Aha" moment.
"We like to say we're more than just a collection of items to sell," says Theresa DeMarco who runs the shop with her son, Sean, who is 25 and on the autism spectrum. "We are a collection of stories to tell."

The narratives share a unifying theme. Since opening in 2020, the shop has curated and showcased merchandise by neurodiverse entrepreneurs.
That includes "artisans, makers, entrepreneurs and social enterprises built around people of different abilities," says Theresa, a former human resources representative with two other sons in their 20s.

The store's initial 12 businesses have now grown to 61, including several based on Long Island. Placards near products share their histories — from aromatic soaps and candles to tasty treats and clothing items and original artworks.
Decades Collectibles is Sean's line of framed reprint movie posters. A cinephile who, according to Mom, loves everything from Fred Astaire to Freddy Kruger.

Sean says he "doesn't have a favorite film." But he is "a huge Tim Burton fan." Sean's in his sweet spot in the shop, where he helps decide on new businesses to add, assists customers, stocks shelves and helps handle shipping.
"He's become a familiar face in the post office," says Theresa. "This shop is about inclusion and community."
He appreciates seeing customers respond to items. "I like it when people are happy," he says. He wants young adults like himself to have the same sorts of business opportunities he has had.
Items are priced to be budget-friendly. A sampling of what's in the store includes hot sauce ($12), gourmet granola ($2-$4), socks ($5-$14), note cards ($3-$5) and photography books ($57).
Half of the store's customers are locals who like to shop small. The other half, says Theresa, "are connected to somebody with special needs."
The shop's logo is a delicate dandelion. "Most people look at dandelions and see a weed," she says. "You have to look beyond to see the full potential."
One for All Gifts is located at 53345 Main Rd., in Southold. Store hours are Wednesday through Saturday 11 a.m. to 5 p.m.; 631-765-8317, oneforallgifts.com.

By Joe Dziemianowicz (Article Source: Newsday - Fashion & Shopping)