Make My Day Jewels
November 4, 2020
One for All Gifts in Southold, owned by mother-son duo, spotlights neurodiverse entrepreneurs
January 30, 2023
Smile Farms® Helps Create a Sense of Purpose for Adults with Disabilities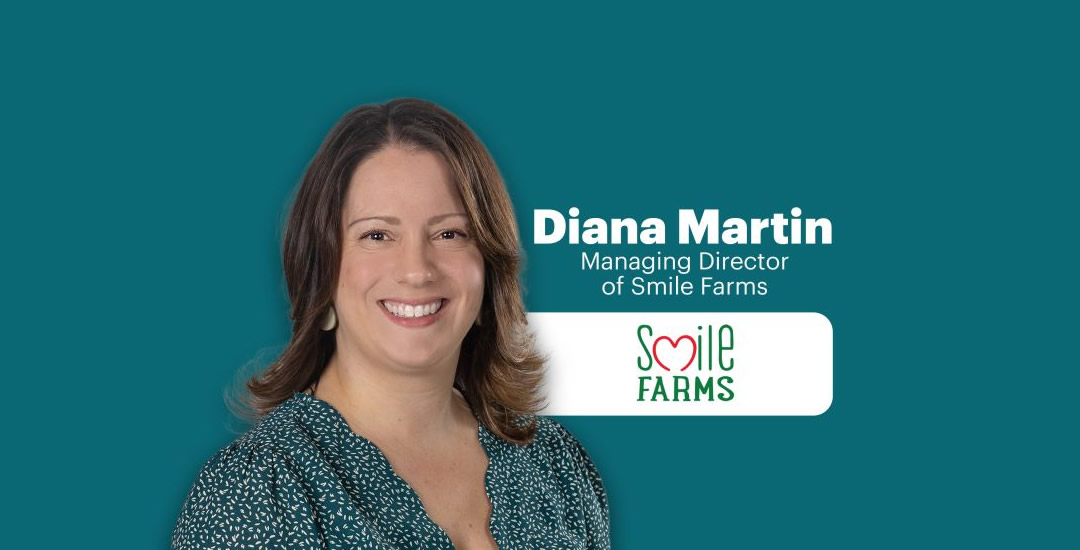 October kicks off National Disability Employment Awareness Month, celebrating the contributions of American workers with disabilities – past and present – and highlighting supportive, inclusive employment policies and practices. To mark this year's theme – Disability: Part of the Equity Equation – we caught up with Diana Martin, Managing Director of Smile Farms, the signature philanthropic partner of 1-800-FLOWERS.COM, Inc. The mission of Smile Farms is to provide adults with developmental disabilities with meaningful work opportunities at farms, urban gardens, greenhouses, and farm stands where they can grow and sell flowers, plants, and produce in their local communities. 

Diana discusses how her background led her to Smile Farms, the impact of this nonprofit's programs, how companies and individuals can be better allies to the differently abled community, and more. 

Tell us about your educational background and work experience? How did you come to lead Smile Farms? 


Out of college, I landed in an AmeriCorps position. This was deeply fulfilling for me, and during my time there, the school social worker suggested that I consider a Masters in that field. I later received my MSW from Stony Brook University in New York and decided to pursue a nonprofit career. I got my start at the Long Island Council for Alcoholism and Drug Dependence (LICADD) and have worked at Brighter Tomorrows and at North Shore Child & Family Guidance Center. And I am proud to have been one of the original five female co-founders of Empowerment Collaborative of Long Island (ECLI). I came to Smile Farms in July of 2018, only three years into the organization's founding.
"I love sharing our work with donors and community members, and above all, I love connecting with our Farmers and witnessing first-hand the impact of our efforts."
What do you love most about your work?


My job is exceptionally multi-faceted and fulfilling. I love sharing our work with donors and community members, and I love connecting with our Farmers and witnessing first-hand the impact of our efforts. 

Our Smile Farmers run the gamut in terms of abilities, and something that I am particularly proud of is the fact that the activities on our campuses meet them where they are, but also offer a bit of a challenge. Our Smile Farmers gain a sense of purpose and pride from their jobs, as well as the knowledge that they are not just accepted but admired for the unique skills they bring to our Farms.
By giving jobs to these differently abled adults, how has Smile Farms impacted the lives of farmers and their families?


Many parents of children with disabilities live with a constant worry about how their child will fill their days once they age out of educational services. They are all too aware of the stigma that exists around adults with disabilities and fear their child will struggle to find their place. We hear from family members of our Smile Farmers that their loved one's job with us assuages some of their worry, freeing their minds to live their own lives more fully. We also hear frequently from our Farmers and their family members that their work on the Farms gives them an opportunity to participate in family conversations and creates a sense of shared experience that had been missing before. 

Do you have a specific story to share that might illustrate that impact?


We have a Farmer at one of our campuses who is pure light. Just the other day, our program lead at that campus was telling me that he was brainstorming what crops we should grow next season and how to turn them into marketable products. He has such pride in the peppers he grows for our hot sauce, too. 


We recently interviewed him, because hearing from our Farmers directly is so important, and he said, "I love it here, I love getting paid every two weeks. It makes me happy. And in the future what I'm going to do is become a news reporter to help people who are disabled people, like me, become an advocate for them."


Hearing from him that his work at Smile Farms makes him feel empowered to make a difference for other people in his community really demonstrates to me how special our Farmers are and how much untapped potential there is when they are overlooked in the workforce. 

What do you believe is the single biggest challenge facing the disabled community today as they look for employment?

The single biggest challenge and the systemic barrier that needs to be overcome is the stigma that disabled individuals cannot be productive, valuable employees. In fact, individuals with disabilities have much to offer our workforce in the way of productivity, morale-boosting, and even nuanced tactile skills that surpass those of many of their non-disabled peers. 
According to a study conducted by the Institute for Corporate Productivity, more than three-quarters of surveyed employers who hired individuals with disabilities ranked their employees as good or very good on work quality, motivation, engagement, integration with coworkers, dependability, and attendance. The study went on to say that hiring people with developmental disabilities "adds highly motivated people to the workforce (which can lead to increased productivity) and promotes an inclusive culture that appeals to the talent pool organizations want to attract." Furthermore, studies show that commitment to diversity and inclusion improves employee satisfaction in their workplace, which in turn improves the bottom line for the corporation. 

What can employers do to be more inclusive toward differently abled hires?

People with disabilities benefit from being given opportunities that highlight their strengths, that offer them challenges appropriate and sensitive to their current abilities, and that minimize obstacles to their success. 
Might this take some creative thinking on the part of the employer? For some positions, certainly. But who's to say that devoting those resources to that task doesn't create greater innovations? I prefer that we not look at hiring people through the lens of how "they" can be "accommodated." Rather, Smile Farms would love to see employers embrace the idea that bringing people with disabilities into their company enriches it. That placing people with a lived experience of resilience and navigating a society that devalues them next to people who have not experienced those same challenges is humbling and empowering and creates community. 


What can individuals do to support this community?


People can help by being bold, by asserting their allyship with the disabled community through their words and actions, especially in the workplace, where culture is created and the decision-makers are likely to notice, and on social media, where potentially thousands of people can be influenced by the voice of one. In the case of individuals with hiring power, and entrepreneurs, they can help by taking the actionable step of putting a person with disabilities on their payroll. They can choose to focus on what the candidate does bring to the table, instead of what he or she does not. And then after they've done this, they can share their positive experiences with others and encourage them to follow in their footsteps.


Are you finding that the current labor shortage is helping boost hiring among the disabled community? 


In this environment, Smile Farms has had more businesses come to us seeking connections to disabled candidates. This is due to both the labor shortage as well as the increased public attention on DE&I initiatives in corporate culture. That said, the small uptick we've seen on a local level does not imply to me that we are on the road to a revolutionary global shift in people's perceptions, unfortunately.


What does National Disability Employment Awareness Month (NDEAM) mean to you?


During NDEAM, many people are thinking about folks with disabilities, and talking about hiring practices and belief systems. We should capitalize on those conversations and use them as a springboard for real actionable steps and accountability in the coming year. Employing people with disabilities should not be something we only discuss in the month of October, but it is a time where we can leverage a broader scope of resources to highlight this important issue.


Why is corporate support so important to the future growth of Smile Farms and the ability to fulfill its mission?


Smile Farms is a young and presently small organization, and all support makes a significant impact at this stage of our growth. That said, we have the potential to grow very quickly. The demand to partner with us to create more campuses and thus more jobs for disabled folks and more revenue for our partners is increasing rapidly. Additionally, the demand for products grown by our Farmers, including plants, produce, and our signature hot sauce, is also exploding. 

Corporate support is incredibly relevant because it typically comes with a variety of benefits. Smile Farms needs corporate dollars to sponsor our upcoming campuses, but we also need the investment of the people at corporations. We would truly not have been able to sustain our Farmer's Markets and pop-up sales this year without the support of our corporate volunteers. Our need for dedicated folks to lend us their time and specialized skills is more pressing now than ever. Additionally, employee-targeted corporate support initiatives like peer-to-peer campaigns offer an opportunity for businesses of all sizes to share their goodwill and give back to their community while boosting office morale and reinforcing the benefits of teamwork. As is the case at 1-800-FLOWERS.COM, Inc., it's particularly fulfilling for a company to see the impact on a non-profit and the people it serves.


Thank you for your many valuable insights, Diana!

SOURCE ARTICLE