Volunteering at Smile Farms at IGHL
July 19, 2016
October Is National Disability Employment Awareness Month
October 3, 2016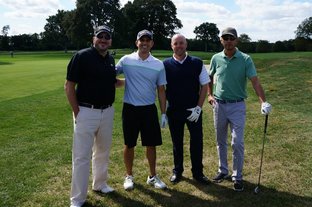 Sands Point Golf Club was filled with nearly 150 people, rallying up behind the Smile Farm cause on the night of September 26th. Over 95 people spent their day golfing in the sun, while 20 others spent the afternoon enjoying our Wine & Paint Event. Golfers had a 12:30 shotgun start, which continued until dinner. Wine & Paint attendees learned various techniques on how to paint a perfect sunflower, taught by our very own Carly Fitzsimon. During this time, attendees were also educated by a sommelier on both wine etiquette and the best wine and food pairings.
As more members of the Smile Farms Family joined us for dinner, the evening was filled with lively conversation and delectable food. Competition spiraled during our Silent Auction as many bided on some of the auction items such a Michael Strahan Autographed Helmet, a VIP Private Wine Tasting experience and 4 Box Tickets to the upcoming Rangers vs. Oilers game.
The evening portion was the perfect ending to a wonderful day. We are proud to say the entire event had gone successfully and we were able to raise three more than last year! Tremendous thanks go to our hosts, Jay and Janice Scansaroli and huge congratulations to our honorees of the evening Jerry Gallagher and Bob Walker!
Melissa Guida
Smile Farms Inc. Intern
---