Smile farms 3rd annual pop-up shop
June 18, 2018
A Season of Sharing. A Season of Giving Back.
December 5, 2018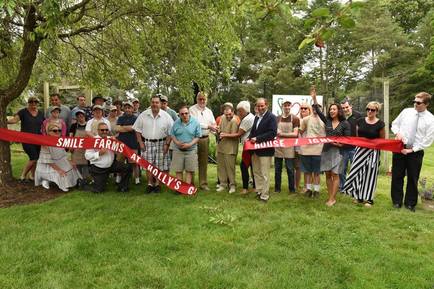 Smile Farms, a non-profit dedicating to helping provide employment to adults with developmental disabilities in agricultural settings, officially opened its 7
th
 location with a ribbon cutting ceremony on Friday, June 22
nd
, 2018. The new location employs 24 adults at Holly 's Guest House in Moriches, NY.
Holly's Guest House is a bed and breakfast where family and friends of Independent Group Home Living (IGHL) residents can stay when visiting, and is run by IGHL, a non-profit whose mission is to provide programs and services such as Day-Habilitation, housing, and family support for people with intellectual disabilities so they can realize their full potential as human beings and contributing members of their community.
The first Smile Farms was created in partnership with IGHL, after IGHL CEO Walter Stockton asked Jim McCann, Smile Farms founder and executive chairman, for help securing jobs for some of his residents who were having trouble finding work. Holly's Guest House is Smile Farms' third farm with IGHL.  
Both Walter Stockton and Jim McCann spoke at the ribbon cutting ceremony, where McCann described how the work Smile Farms does benefits developmentally diabled "folks who are ready, willing, and able to work and had a hard time finding work." These individuals now work in the 8 raised garden beds which produce an array of vegetables. Their harvest is used to prepare meals for guests of Holly's, with any surpluses being used by IGHL residents. 
​
After the ribbon was cut, guests to the ceremony joined the new horticulturalists in the garden where they were excited to give a tour and share what they've learned. The passion and excitement they have for their jobs is contagious and anyone could see just how important their jobs already are to them. ​
Nicole Grace
Smile Farms Intern
---