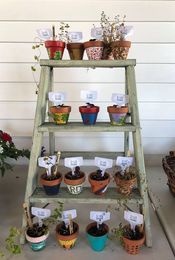 Beachgoers were in for a treat when they arrived at The Ocean Club, Inc. in Atlantic Beach on Saturday. They were met with a colorful array of potted and hanging flowers, plants carefully arranged in unique containers, and, perhaps best of all, herbs in pots painted by employees at Smile Farms. The plants were part of our 3rd Annual Pop-Up Shop. The Pop-Up Shop gave us an opportunity to sell herbs grown by employees at Smile Farms at League Education and Treatment Center in Brooklyn, NY. This urban farm employs ten developmentally disabled young adults and adults from their Vocational Program, and consists of 8 raised garden beds, a hoop house and a sensory garden. The employees were also kind enough to hand-paint flower pots for their herbs and they attached a recipe for fresh chive vinaigrette to their chives.
---
The rest of the flowers and 
plants for sale
were grown at Smile Farms at IGHL, the first Smile Farms campus located in Moriches, NY. This campus employs over 30 people with developmental disabilities and consists of 19 greenhouses. It is also the workplace of Kevin 
McCann,
 Jim and Chris McCann's brother, who joined us at the shop. 
He had a great time joking with both volunteers and customers while helping to sell the plants that he worked to 
grow.
Everyone loved the plants grown at Smile Farms, but of particular interest were the unique arrangements created by Mrs. Teresa Madtes. She worked hard to arrange various plants and flowers in a variety of containers to make one-of-a-kind creations. Everyone loved her work and all of us at Smile Farms appreciate the hard work she put in to making the day a success. Not only did she contribute arrangements to sell, she was there bright and early, working with the Ocean Club to put on the event. ​
---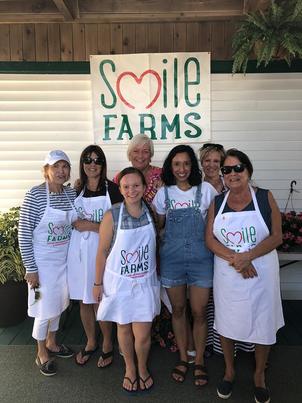 Ms. Ann 
Liggio
 also deserves great thanks. She spent hours making two quilts to be raffled off at the end of the day. The lucky winners went home with either a blue nautical-themed quilt or a red envelope-pattern quilt. Both winners are extremely lucky to receive such beautiful, homemade quilts.
In addition to the quilt raffle, two tickets to our Smile Farms 2nd Annual Citi Field Fundraiser were raffled off. The fundraiser will be held on Wednesday, July 11th and tickets include access to a Pre-Game Party where the first 56 attendees will receive a free drink and all attendees can enjoy endless appetizers provided by the Planning Committee. Ticketholders then enter Citi Field through a private entrance where they will listen to the National Anthem, sung by the FREE players ensemble, from the Warning Track! Ticketholders also receive a free Mets hat, Smile Farms t-shirt, and $12 Food and Drink Voucher. Our lucky winner is sure to have a great night! 
​All-in-all, our Pop-Up Shop raised over $3,000! We couldn't have done it without our wonderful organizers and volunteers, everyone at Smile Farms, IGHL, and The League School, The Ocean Club, and all of our supporters who purchased our beautiful plants and flowers! We're already looking forward to another great Pop-Up Shop next year! ​
Nicole Grace
Smile Farms Intern
---