Smile Farms At Skills Unlimited
July 28, 2017
Smile farms 3rd annual pop-up shop
June 18, 2018
Smile Farms At League Education And Treatment Center: Ribbon Cutting Ceremony!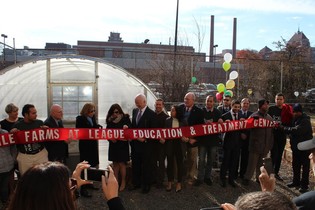 On Monday, November 27, 2017, Smile Farms, a non-profit organization dedicated to providing meaningful employment for developmentally disabled adults, held a ribbon-cutting ceremony to celebrate the grand opening of its fourth location, Smile Farms at League Education and Treatment Center (LETC), at the League School in Brooklyn, NY.
This urban farm facility is launched in conjunction with LETC, a non-profit organization dedicated to improving the lives of individuals that are emotionally and developmentally challenged, and consists of eight raised cedar garden beds, a hoop house to allow for year-round operations, and a sensory garden to grow a variety of traditional and nonconventional fruits and vegetables.
This campus provides meaningful employment for 11 people with developmental disabilities, 10 from LETC's Vocational Program and 1 farm supervisor from the local community. Additionally, Smile Farms at LETC will provide emotionally and developmentally challenged students, ages 5 – 21 years of age from the League School, opportunities to use the sensory garden as educational resource and work alongside its employees in tending to the garden.
"We're proud to partner with the League Education & Treatment Center to continue delivering on Smile Farms' mission of providing meaningful work opportunities for adults with disabilities", said Jim McCann, Chairman and President, Smile Farms Inc. "Along with growing plants and greens, we'll also be growing hope."
Smile Farms Inc. is a signature philanthropic partner of 1-800-FLOWERS.COM, Inc.
ABOUT SMILE FARMS:
Established by the McCann family in 2015, Smile Farms is a 501(c)3 organization that provides work in agricultural settings to individuals with developmental disabilities. The organization's mission is to build a movement that fosters a world where people with differing abilities are always fully included. Smile Farms currently employs 61 developmentally disabled adults and serves over 100+ adults and children with disabilities through its now four locations – and counting!