Let's Give Thanks
November 24, 2015
Did You Know…
March 1, 2016
Smile Farms Recognized At Hia-Li Gala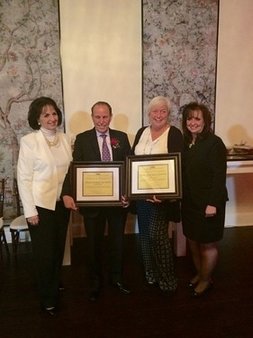 Wednesday, December 9th, Hauppauge Industrial Association of Long Island (HIA-LI) held its 7th Annual "Those Who Make a Difference" gala.
Smile Farms at IGHL and the McCann family were presented the "Those Who Make a Difference" award. This honor celebrates outstanding leadership and excellence in the Long Island area.
Terri Alessi-Micelli, president of HIA-LI, took the podium to introduce Walter Stockton and Julie McCann Mulligan with a few kind words about Smile Farms and its mission.
Julie and Walter took center stage to give a brief acceptance speech where they expressed their gratitude and goals for the non-profit organization.
Julie accepted the award on behalf of the McCann family and Walter, CEO of Independent Group Home Living (IGHL), received the award on behalf of Smile Farms at IGHL.
Smile Farms Inc. would like to thank HIA-LI for bringing the Long Island business community together and organizing a successful event!
Additionally, they would like to take a moment to congratulate all the honorees of the night.
List of Honorees
Bank of America
John Bauer – Office Managing Shareholder,  Littler, Mendelson, P.C.
Jackie Harounian – Attorney At Law,  Wisselman, Harounian & Associates
Robert Dooley, Attorney – Attorney,  McGiff Halverson LLP
Raffelina Cipriano – Regional Leader,  Primerica
Alison Longstreet – Registered Representative, New York Life Insurance Company
Marlene Young – Director of Contract Furniture, YES – Young Equipment Sales, Inc.
 
There is much more to be done, but the future looks bright for the organization. From our Smile Farms family to yours, happy holidays everyone!